"We've had Bec take our family and newborn photos and we love her work. She allows us to be ourselves and catches real moments of our family.
Her disposition is warm and since she is a Mum she is great at knowing what family photos really mean and it comes through in her work.
She has gotten gorgeous shots of our first born Buddy (our dog!) too!"
"
I spent ages selecting a photographer to take some photos of my family and could not be more pleased we chose Bec.
She was lovely to deal with and put us all at ease on the day. The photos are absolutely beautiful and she really managed to capture the personalities
of my two little girls. We chose the 'A Lot' package with all the photos and the album because there was no way I could just select a few.
I cannot recommend Bec enough".
"Every year we get Bec to photograph our kids. She has been doing it for the last 8 years, human babies & fur babies included. She photographed our daughter Lucy at 8 Days old! Her style which is candid & casual bring out the kids personalities & makes the pictures so much more special! We absolutely love Becs pics & wouldn't consider using anybody else. She's definitely the best in the business & I would recommend her to anyone".
"I was blown away by the amazing memories and moments Bec captured! She's efficient, great with young babies, and was my exact style match, not too 'posed', just what I was looking for!
She captures real and authentic smiles and truly warm moments, and she made it so effortless for us. She knows exactly what to snap!
Recommended for new mums and families for a cool, relaxed style of photography".
"Bec is a pro at what she does. Within the first 30 seconds of meeting my pooch Sherman he was besotted by her. She naturally makes you feel at ease too. The photos definitely show this".
"Bec was totally amazing. So relaxed and down to earth and made us all feel so comfortable.
She is so great with kids. She easily made my two year old feel at ease (not easy) and was awesome with my newborn. The session at home was very relaxed and we all had heaps of fun. Totally IN LOVE with all of the photos".
"Bec was absolutely fantastic from the moment she arrived. She connected with my toddler straight away which made for some fantastic shots. She was happy to be guided by us while at the same time she came up with some great ideas along the way. She managed to get beautiful photos within a short space of time which was great when juggling a toddlers attention span and a newborns temperament. Highly recommend!"
"Bec, you're an amazing photographer and you just have a way with kids. My son is a tough cookie to crack, yet you always make him smile and capture the perfect photo. Your relaxed and easy nature just makes it all more memorable. Thank you for capturing so many memories that will last forever. See in in November for our yearly photo session".
"Bec has been a delight to deal with. She had a wonderful way with our kids on the shoot and her photographs are fantastic. The only difficulty has been narrowing down which photos to chose as part of our package".
"Bec has captured our little changing and growing family for years now. Her artistic eye and beautiful photos have been our little treasured gems we will enjoy looking back on for years to come. We wouldn't trust anyone else. And we look forward to having her capture more family moments for many more years".
I'm so happy with our family photos! They turned out even better than I hoped - You managed to entertain & engage with both my boys who had such a fun morning! They both really enjoyed themselves & there were no tears & tantrums which was a huge surprise! They were having so much fun, that they didn't even ask to go on the playground which was right there!
We will definitely be using you again!
"Love love LOVED our family photo shoot with Bec! She made us feel all so at ease and relaxed and the kids loved her. Thank you for catching such beautiful images of our family as they are, which we now have to cherish forever. Will definitely have you back as our family grows xxx".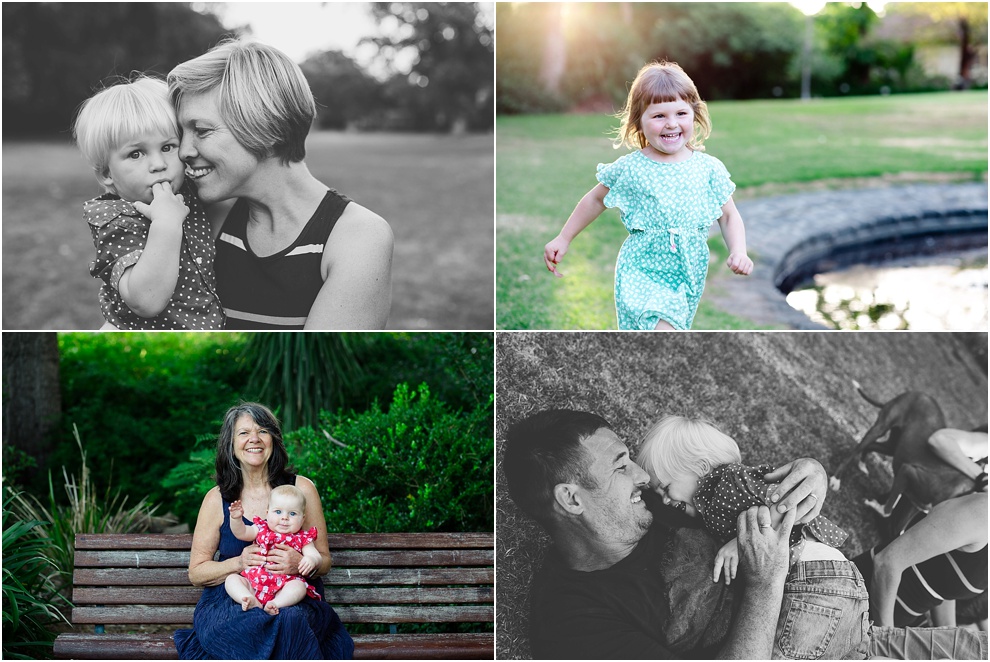 "Highly recommend Bec. Not only is she a phenomenal photographer but a wonderful human who is easy to get along with and takes pride in her work. Her ability to engage my kids was impressive. She even had a better handle on our puppy than I do! From start to finish the whole experience was full of fun and love. The relaxed atmosphere and laughs really bought out all of our personalities. I think every family needs an hour with Bec photographing them to connect, smile and hug".